David Pacey's Memories and Photographs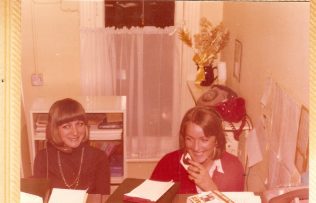 On this page are a series of photographs from 1977 along with memories sent to us at the John Lewis Heritage Centre by David Pacey.
David was the Deputy Accountant at Robert Sayle around 1975-1978, below are some of his memories:
"My office was on the top floor at its northern end. It used to be six rooms, but they had been knocked into one. The six rooms had been staff rooms when the staff lived in. I had a young chap called Peter Vaid (Expense Office Assistant) and young lass working for me in that room; they maintained the financial bookkeeping for me. Sue's Bought Ledger was also in that room.  I've only been back a couple of times since the new John Lewis was built – and it's not so far away!
I had a good working relationship with Mr Cooper (Soft Furnishing Workshop Manager). For the last year and more of my time there, I represented the ladies of his workshop on the Branch Council.
Graham Litchfield's Electrical department was in the basement. The basement was considerably extended below ground level and I had to submit regular reports on the money that was being expended with regard to this.
Freddy Butt (Menswear) came to me one day in the DM's rest room. Over coffee, knowing that I came from Peterborough, he asked me if I recalled the Robert Sayle Branch in Peterborough being burnt down. It was no, but he told me of the rumours as to how and why it had started. My response to him was not quite correct. I asked my mother about the fire and it appears that I could recall it. I had been on holiday for a few weeks at my grandmother's in Buckden. My mother had come to collect me. We caught the bus home. Driving through the town city there were ramps everywhere to take the bus over the water pipes the the fire brigade were using the contain the fire. I think that the discussion with Freddie was at the time when the Gazette published  an aerial photograph of Peterborough city centre, with a big area of it flatten ready for the building of the Queensgate centre, the the area of the "new" John Lewis branch marked out. I still have that Gazette! There's another story attached to that but it's not a good one to relate.
Julie Eldridge (Girlswear) I remember only too well. For last four month's of my time at Robert Sayle, I lodged with her; she was most distressed when I said that I was leaving. But sadly it had to be. I also had to leave my girlfriend of that time behind, sad indeed!
Joe Sloots (Deputy Credit Control Manager) was another person that I recall only too well. One day I had to visit Ann in the Sales Ledgers; whilst there Joe went to do some document shredding. He lent over the machine too far and his tie went in. Everyone stood around horrified,it would have strangled him. Fortunately I had the presence of mind it hit the off switch just before there would have been a very nasty accident.
I know that there's a lot more if only the little grey cells would co-operate. In fact, whilst trying to remember Sue's surname it's come to me that there more photo's elsewhere. So when they come to light I will try to remember you.
Since leaving I've had many jobs, I qualified as an accountant – I even worked for 3 years as a Senior Software Consultant for a major software house. Inter alia, I worked for University College London as their Finance Manager. I been out to the USA twice and Japan 4 times and been through 6 African countries, working in 2 on business."
Thank you David for this wonderful contribution!