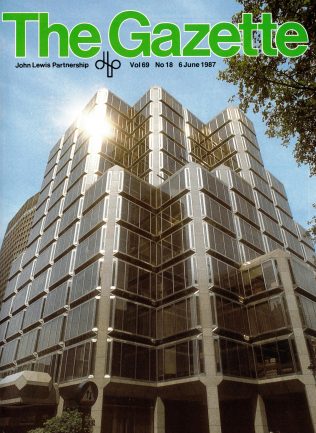 One all encompassing building
In June 1987, the announcement was made by the Gazette that John Lewis' central offices, from which all central administration was undertaken, were to be moved into one all-encompassing building. The move had been thought about for several years, the only thing that had slowed the process down was finding a suitable location. And in 1987, such a location became available.
171 Victoria Street, immediately adjacent to the piazza of Westminster Cathedral, and about 100 yards from Victoria Station, had been built and occupied by BP Oil limited, and had opened in 1975. Much like the Partnership, BP decided that it was time to concentrate their many offices together and so were constructing their own new building. 
Acquired
Thus, 171 Victoria Street was acquired by the John Lewis Partnership on a long term lease. As BP had conducted similar operations in the building as the Partnership intended for it, it was the perfect premises. The building could be occupied by the central Partners as soon as the new BP building was completed at Hemel Hampstead, and Victoria Street was vacated. This was expected to be in late 1988 or early 1989. 
Moving in
The move to Victoria was finally completed in November 1989. Sixty-nine central departments now occupied the former BP building, although for time being, Management Services remained at no.10 Clipstone Street. 
Partnership House
Since 1989, there have been various reshuffles, and some rebuilding projects. The biggest alteration to life at 171 Victoria Street came in the early 2000's when the Partnership acquired the next door building, calling it Partnership House. Into Partnership House moved the Group Partners, departmental specialists offering support to all three divisions of the Partnership. Back at Victoria, the extra space this created allowed the remaining departments operating outside of Victoria to move in. At present, this is how operations at Head Office are conducted.