from the private collection of Florrie Dwyer (nee Marley)
from the private collection of F. Dwyer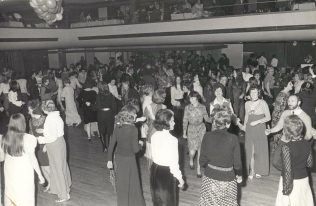 From the private collection of F. Dwyer.
from the private collection of F Dwyer
These are some of Florries' memories of her time working for Trewin Brothers.
Florence Marley arrived in Watford aged fifteen from the North East to start her working life. She had been unable to find a suitable job in Newcastle so with her mothers' help she had been offered a job in Watford.
Watford seemed very drab
She remembers being met at Victoria coach station by Miss Orchard, who was the housekeeper at Trewin Brothers.  They then travelled by train to Watford High Street station. Her first impression on a cold wet October evening was not good.  Florrie thought Watford a very drab place after the bright lights of Newcastle.  However, being the determined young girl she was, she decided she had to give it her best shot.
As a boarder, she shared a bedroom (over the shop) with another young lady Mary Varley, and they quickly became good friends.
She learned the art of selling
Her day started with breakfast, then had to be on the shop floor by 8.30am to prepare for the shop opening at 9am.  Covers were removed from the counters and chairs put in place for the customers to sit on whilst being served.  Florrie started work in the ladies department, first in Hosiery where she learned the art of selling and later moved on to Ladies Blouses.  Each customer received individual attention.  She made sure that the customer was seated on a chair, then she would help them with their choice of stocking.  Florrie demonstrated the thickness of the denier by showing them over her arm.  As you can imagine, this could take quite a long time.
Shop hours in the thirties were 9-6 on Monday, Tuesday and Thursday.  Friday the shop was open until 8pm and on Saturday until 9pm; with a half day closing at 1pm on Wednesday.
The shop manager Mr Davis also lived on the premises together with his family.  Florrie sometimes baby sat for his two sons.  She was paid 2/6d (about 12pence) for the evening. This helped her income as her wages were about 80pence per week and she had to contribute towards her keep from this.
Christmas spent at the shop
At this time Trewins was part of the Selfridge Group and assistants earned commission on their sales.  She remembers Gordon Selfridge was a regular visitor who took an interest in the staff and could remember their names.
Florrie stayed at Trewins for two and a half years.  She did not go home and can recall Christmas spent at the shop; going to Church on Christmas Day and spending the rest of the day with the other staff that lived in, Christmas dinner was cooked by the housekeeper.
Whilst in Watford, Florrie met her future husband at the first party she went to shortly after arriving.  When she became Mrs Verdon they moved away from Watford so she had to leave Trewin Brothers.
Forty years later
Forty years later she returned.  She applied for a clerical vacancy, but as that had been filled she was offered a position in the Children's Wear department where Miss Golby was the manager.  Linda (Hardy) Wood also worked with her.  Florrie really enjoyed her time in that department, she loves children so it was the ideal place for her.   She became the department Branch Councillor and recalls she had several good discussions with Mr van der Pant at meetings.
Turnover party
During this time Trewins celebrated their 5 Million Pound turnover with a special party at the Top Rank Suite in Watford.  Florrie kept her ticket and a photograph of the occasion.
When Florrie retired in October 1977 Alan van der Pant wrote a whole 'goodbye' page about her in the Chronicle.  Shortly after retiring Florrie (a widow) remarried and became Mrs Dwyer.
Although Florrie celebrated her 90th birthday last year she still keeps up to date with all the happenings at Trewins and comes to our Friday Club coffee mornings and also joins in all our outings.