Partners and Managers Dining and Rest Rooms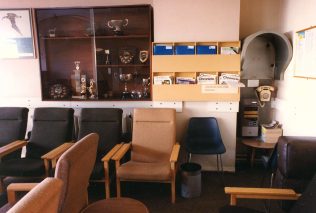 Partners and Management were never allowed to dine together, separate dining and rest rooms being the order of the day.  We were never quite sure which was the more beneficial; them being able to talk about us, or us able to talk about them!
In the Partners dining room you will notice a picture, hanging on the wall, of the then Chairman Mr Peter Lewis.
In the rest room there was a trophy cabinet containing various silver cups awarded to departments for "profitability" and "good housekeeping" as well as the interbranch challenge cups for sporting or other activities.  You will also see the rack containing Chronicles from all the other branches.
There was also a public telephone for use by Partners.  Today of course we all use mobiles.  The pool table was and still is very popular.