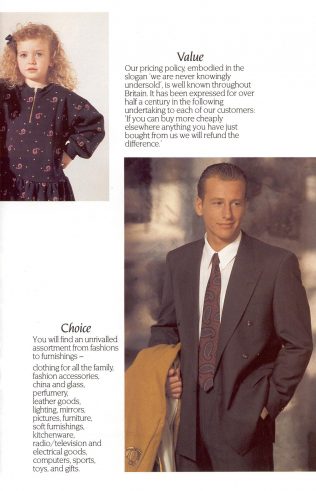 Before the shop opened in the Harlequin Centre, customers and local people were sent copies of a leaflet telling them where the new Trewins was located, its opening hours and when it was to open its doors for the first time.  Inside were also details of the goods and services on offer.  Trewins was one of the first of the 150 shops to open in the new shopping centre.
High level of service to their customers
In 1990 Trewins was one of the Partnership's shops which closed every Monday.  This was a long standing practice which was designed to give the staff a two day weekend.  It meant that more full time staff worked in Partnership shops than was usual in retailing and it was thought that experienced staff would provide a very high level of service to their customers as it allowed them to follow through customers' orders and be in the shop every day it was open.
It was only when Sunday trading began that it became necessary for Partnership shops like Trewins to begin to trade seven days a week.