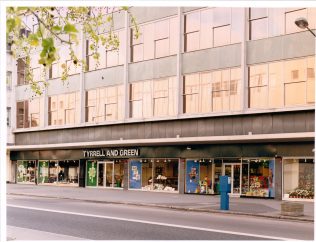 New shopping centre
In the Gazette of the 5th October 1996, the Partnership announced its intentions to relocate Tyrrell and Green to the brand new West Quay shopping centre. This new centre would be based in the heart of the city, and would be located close to both the central train station and coach station. Construction was due to start in 1997, with a proposed opening in the spring of 2000.
Becoming John Lewis Southampton
The Partnership made the decision to call the new shop John Lewis Southampton. Tyrrell's undoubtedly had a formidable reputation in the area, but it was decided that by this point, the Partnership's was slightly stronger. As a port town with many foreign visitors, the opportunity to promote the Partnership as a cohesive unit was one considered too good to miss.
Construction
By February 1999, construction was coming along swimmingly. Meanwhile at their shop on Above Bar Street, Tyrrell and Green Partners carried on as normal. And in July 1999, John Lewis Southampton was handed over to the Partnership for fitting.
As John Lewis Southampton geared up for opening, Tyrrell and Green had begun the winding down process after 103 years. In August 2000, weeks before the opening of the new store, retired Partners met one more time in the Barova Cafe to bid their last farewells. A little over a month later on Saturday 23rd September, and Tyrell and Green closed for the last time. There was no time to reminisce however, for the opening of John Lewis Southampton was only days away.