John Lewis Oxford Street and the Olympic Games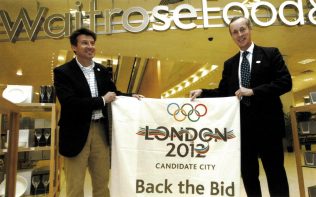 The Olympic bid
Sport and the Partnership have been inexorably linked since the creation of the latter. In its many guises, sport has been actively encouraged, as it was understood by the Founder to produce a more rounded individual. Upon the announcement in 2005 that London would bid to host the 2012 Olympic games, the Partnership wasted no time in becoming the only retailer to back the bid, offering 'champion level' support, therefore becoming an official backer.
To the East as the crow flies
When it was announced that London had been successful in its bid, and that it would indeed hold the 2012 Olympic Games, the Partnership was first once again to show its support. John Lewis and Waitrose were announced as official retailers of the games, and more significantly, the Partnership would lead a development of Stratford City. John Lewis Stratford city was opened in 2012 in time for the start of the Games.
Back at Oxford Street
John Lewis Oxford Street during the Games was by all accounts, mad. The Partnership's flagship store embraced a global audience, and through its Olympic shop, connected with the Games and the crowds on a material level. The frontage of the shop was fantastically swathed in the colours of London 2012, an poignant sight to behold indeed!
The Olympic Shop
At one point, the especially designed Olympic Shop occupied the whole of the fifth floor of John Lewis, and part of the ground floor, when it was realised that yet more space was needed. During the Games, the Olympic Shop was making over £1 million pounds a week, and that was not counting the rest of the department store's takings!