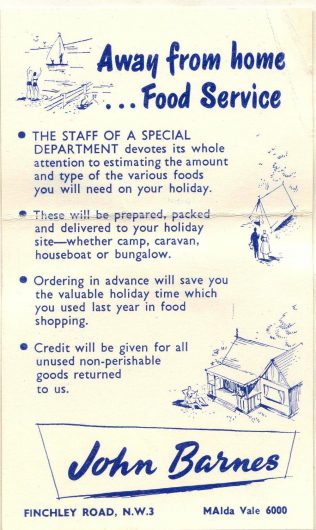 The famous food
John Barnes reported its first £1000,000 turnover in 1948. Much of the store's successful came from its now famous food department. By the 1950's, the John Barnes food department had been long established in the basement of John Barnes. The photograph below, taken in 1936, shows the plethora of meats available to customers, just one aspect of the food hall that saw people travel for miles to visit it. Just prior to the Second World War, London experienced an influx of refugees, eager to escape persecution abroad. They brought with them substantial appetites and a taste for exotic food, which was excellent news for John Barnes.
First to go self service
In 1952, the branch's food department was one of the first in London to go self-service, doing so in 1952, a full three years before Waitrose opened their first supermarket. By this point, with the end of rationing, customer demand for ordinary food-stuffs drove sales considerably.
Making half of the store's total profits
In 1953, John Barnes started their own 'away from home' food delivery service. A specially devised team prepared, packed and delivered food straight to the customer's holiday address! It was also in these years that Waitrose products began to be stocked in the food-hall. Success continued to come, and by the 60's it had become apparent that over half of the department store's profits were made in the food department. Therefore, when John Barnes closed in 1981, it was taken over and turned into a fully functioning Waitrose.