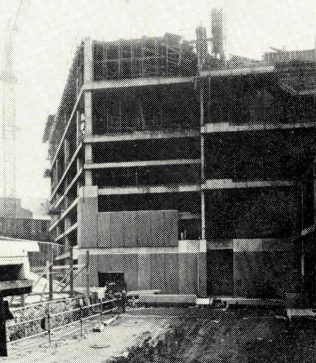 Preparing for success
In the Gazette of January 1968, the Partnership announced its intension to take a site on the proposed St James Centre. This was met with considerable excitement by the workers of 'Silk Shop Ltd', for it was their hard work that had built up the reputation, and as a consequence, the demand for the department store. On the 15th October 1970, the foundation stone for the new St James Square development was laid. The square was due to house Edinburgh's biggest commercial development, in which the proposed John Lewis Edinburgh would take centre stage. The construction itself took three years, and a considerable amount of time was spent perfecting both the department store and the St James Centre.
Expectation builds
In a prime location, the store would simultaneously offer views over the Firth of Forth, the city centre and the buildings of government. But until it was opened in 1973, the overcrowded Silk Shop on Frederick Street soldiered on. The excitement was palpable, and expectation sky high. Many Partners currently working at the Silk Shop were transferring to the new store, eager as they were to be a part of the first John Lewis department store in Scotland.