Memories of Caleys: A short dash from Windsor Caleys to Slough Waitrose, 1965.
John Lewis Partnership Archives - Ref. 4206/f/ii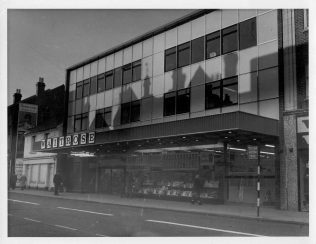 John Lewis Partnership Archives - Ref. 2855/v/v
Shortly after my wedding at Cookham Holy Trinity Village Church followed by my wedding reception in The River Room at the Odney Club on 15th May 1965 I returned to my work as Staff Manager and Trainer at Caleys in Windsor faced with the new challenges of a husband and domesticity!
Because my new home was in an isolated part of the Warfield countryside (now built up with 4000 new homes) part of my new daily and weekly routine was to include a visit to my nearest Waitrose branch to food shop.
Of course to any Partner it made sense to food shop within our own Company and Waitrose Windsor wasn't even on the 'drawing board'.
My nearest branch of Waitrose was up and running in Slough High Street so my Friday lunch hour was spent in a mad dash from Windsor in my little Fiat 500 to Slough High Street for my one weeks food for two people. This was straight forward and worked well given that there was an available car parking space waiting for me at the back of Waitrose.  I had the journey down to a fine art and it always worked well.
However my problems began when a colleague a Department Manager asked if he too could come along with me and do like wise.
He was shopping for his family of 5 so things changed dramatically.
He was still searching items on his list when I was at the checkout waiting to return to Caleys where I had appointments booked. This was going to seriously affecting my working schedule.
Despite all his apologies for delaying me I had to end my regular Friday lunchtime trips to food shop.  Not that Slough Waitrose was affected by losing 2 customers in 1965 but went on trading for another 30 years before closing.
Elaine Morris